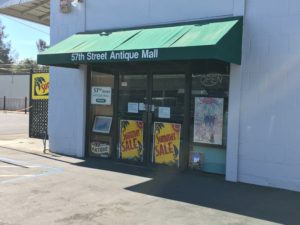 The 57th Street Antique Mall is located in East Sacramento at the 57th Street Antique and Design Center between H Street and J Street.  The 57th Street Antique Mall has been serving collectors' needs for over 27 years.  More than 75 dealers, each with their own style, offer vintage goods and collectibles. There are treasures for everyone!
With so many dealers under one roof there are new treasures to be found every day and at great prices!
Vintage Clothing and Accessories – including mid-century fashions, collectible tee shirts, hats, gloves, purses, belts, and scarves
Costume and Fine Jewelry
Vinyl Records, Cassettes, CDs, and Players
Artwork – including Paintings, Sculptures, and Posters
Furniture – Mid century Modern and older
Lamps, and accents
Linens and Textiles
Collectible Glass – including Art Glass, Fenton, Sea Glass, Stained Glass, and Bottles
Toys, Games, Figurines, and lunch boxes
Signs – Tin, Neon, Paper, and Wood
Tools and Instruments
Pyrex
Cast Iron
Restaurant Ware
Cookie Jars
Dishes, Glassware, Mugs, Flatware, and Kitchen Collectibles
Clocks
Books, Magazines, Periodicals, Sheet Music, and Comic Books
Ceramics including Roseville, Hull, Franciscan, Gladden-McBean, and more
Advertising Collectibles including print ads, posters, mirrors, glasses, and tee-shirts
Smoking Collectibles – Lighters, Pipes, Ashtrays, Cigarette Holders, and other Smoking Accessories
Typewriters, Pens, Mechanical Pencils, Ink Wells, Ink, and Desk Sets
Coins and Paper Currency
Photos and Postcards
Much more!
Whether you're a dealer, collector, or just want to reminisce, drop by and enjoy our 10,000-square feet of nostalgia and treasures!
Sorry, we do not appraise, buy, barter, consign, or trade merchandise.  We do not accept phone calls or online inquiries.  All sales are final.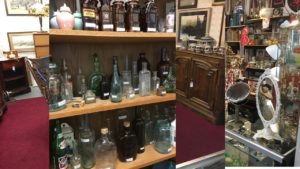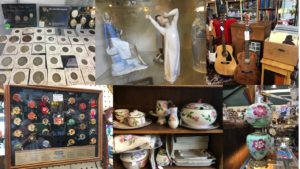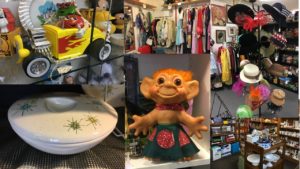 For more information about the 57th Street Antique Mall, visit us at:
57th-Street-Antique-Mall.business.site
857 57th Street
Sacramento, CA 95819
Hours of Operation
Tuesday – Sunday
10:00 am – 4:45 pm
Closed Mondays