57th Street Antique and Design Center
Shopping, Treasure Hunting, Design, Pilates, Workouts, Dance, and a Salon/Spa!   Come visit us and make a day of it!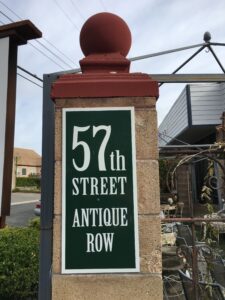 Welcome to Sacramento's oldest and largest Antique and Design Center!  We are located in East Sacramento on 57th Street, between H and J Streets where we have been located for over 40 years.  Our Center has over 45,000 square-feet of eclectic merchandise, services, and offerings waiting for you to enjoy.
We have over 100 antique dealers offering unique antiques and collectibles, with new treasures arriving daily.  We have interior and exterior designers offering their personalized merchandise, design, and decorating services.  For your personal needs, we have a salon and spa, cross-training center, Pilates studio, and a dance studio to help you look better, feel better, and achieve your personal goals.
The Center is open six days a week, Tuesday through Sunday.  We are closed on Mondays, except by appointment.
We look forward to seeing you soon for a fun day at the 57th Street Antique & Design Center!  Enjoy our free customer parking!